This memorial website was created in the memory of Jake Dreier who was born in Iowa on March 08, 1988. He beat us all to heaven on March 13, 2006 just five days after his 18th birthday when bacterial meningitus took him from us all in a matter of hours.
We will remember him and love him forever.


.
To any and all: The kind words you leave here are a treasure to us. Please light a candle while you're here.
Thanks! It brings us so much comfort.

God bless you!


The Price of Love is Grief . . .

Jake, you are Priceless!
one of Jake's pumpkin creations
Background song
Ebb And Flow
by Misery Signals
Revive a sense of hope
Amidst these abandoned dreams
Rewrite what it is to feel
In hopes it will carry me home

Drift in and out
The light of morning drags me back
I need release
Separate this body from my mind

Send me home

My conscience there to send me off to sleep
When I need you closer
For when I wake I am greeted by shades of grey
I'll return to you

In dreams, the sun sets in our eyes
In dreams, we'll never be apart
In dreams, I'll promise you'll never be alone
How much I wish your voice could send me home




The time rolls on and on like a river... I must remember that I can float upon the tide and let myself be carried to where you are, Jake...
Each day I can let my heart break with feelings of more distance from you being here with us. I know I can survive by remembering that each day brings me closer to you!
Thank you, Cindy!


Thank you Cindy! God bless B.J., Buck & Wayne
Thank you, Cindy. God bless B.J., Buck & Wayne

Gone
yet not forgotten,
although we are apart,
your spirit lives
within me,
forever in my heart.
We miss you, Baby King!

Thank you, Brenda. God bless Scott and Samantha.





From Brenda, William Scott Myers' mom.
Thank you. God bless Scott and Samantha.

We were so moved and grateful when the national director of 4-H was touched by Jake's story and had a flag flown over the USDA building in Washington, D.C. in memory of Jake. They sent us the flag and a beautiful certificate, which we displayed at the County Fair, and during National 4-H week.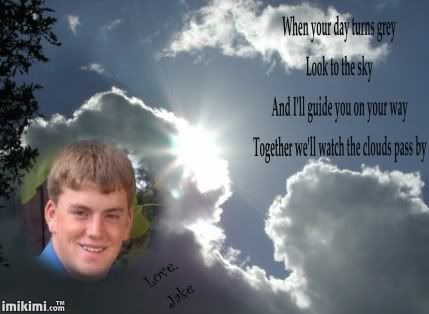 from Cindy, B.J., Buck & Wayne's mom. Thank you, Cindy.
God bless you with love from those boys above!




Dragonfly Legend

In the bottom of an old pond lived some grubs who could not understand why none of their group ever came back after crawling up the stems of the lilies to the top of the water. They promised each other that the next time one who was called to make the upward climb would return and tell what happened to him. Soon, one of them felt an urgent impulse to seek the surface; he rested himself on the top of a lily pad and went through a glorious transformation, which made him a dragonfly with beautiful wings. In vain, he tried to keep his promise. Flying back and forth over the pond, he peered down at his friends below. Then he realized that even if they could see him, they would not recognize such a radiant creature as one of their number.
The fact that we cannot see our children or communicate with them in the usual way after the transformation, which we call death, is no proof that they cease to communicate with us.
--- Walter Dudley Cavet





Thank you, Lisa. God bless Edward.

When Jake was born, he weighed just over ten pounds. The nurses knew and commented immediately that he was going to be a football player! He attended school in his small home town and was just a couple months away from his high school graduation. He was a member of his parish, celebrating the sacraments throughout his life, was confirmed in his Catholic faith in the fall of 2005, but in no way was Jake a "religious" kind of guy! He believed and lived his faith the best he could. For a guy who didn't much care to go to church (even though he always did), he now enjoys the company of his Savior and all the angels and saints - all those who had gone before him, and those who have since joined him there in heaven.

Dad, Erin, Luke, and Nate welcome brand new baby, Jake 3/8/88



Jake was in 4-H for nine years, winning many grand champion ribbons for his woodworking, photography, and art work. He also exhibited at the State Fair, which he was very proud of doing. He loved to see how many blue and purple ribbons he could earn for his hard work!


Jake's first grand champ project Oak desk Jake built 2004 4-H fair projects 2005 projects

Jake was a ready volunteer for things that needed to be done around his home, school, town, and parish, but prefered to do so in a "behind the scenes" kind of way. No matter the job, Jake did so without complaint!



Always loved to help! Jake, Luke, Dad pour concrete

Jake played great second base in Little League and junior high baseball. He played youth soccer for eight years with gusto.

Jake pitched a little in Pee Wee's
In high school he participated in band, playing the saxophone, but for Jake, it was more about the good times spent with friends in band. He tried golf for a year, but that surely wasn't his sport! He was a force on his beloved Bulldog eight-man football team, playing line both ways. He was a quiet, but effective leader and a calming presence on the team. Jake helped the school computer tech manager with computer set up and maintenance. He even made his corn rogueing and detasseling job fun for himself and his buddies! Jake also worked as a pizza-maker, bringing fun times to this job, too!




Ever since he was a small child, Jake loved to build things using his own design and creative imagination, with whatever "junk" that was on hand. He went on to create beautiful oak furniture and even learned how to weld so he could make things - especially for skateboarding.


He was an avid skateboarder since childhood, with the many various bumps and scrapes that go along with it. Jake would help other kids learn tricks and it was nothing for him and his buddies to get up in the pre-dawn hours to drive to the nearest skatepark to spend the day. People all over our small town would know the sound of Jake's skateboard going up and down the street and skating different steps and obstacles. He would be at it all hours of the day and night!


Early days at the Spencer Skate Park


These are both at Spencer.

At Omaha when Jake was younger.
We went to see Toy Machine!




Made by Jake
This was his nick name with some friends,
especially on-line.

Jake made many fantastic computer graphics and
Photoshopped creations!










No love, no friendship can cross the
path of our destiny without leaving
some mark on it forever.
-- Francois Mauriac

Jake, all your friends miss you so much!
Always be at their side,
always along for the ride.








This song is about Jake, Luke and Mark & Matt B. a.k.a"Mouthy", & Keith
their time spent skating,
and other friends -
and how we all feel now.

Sanctity Of Brothers
by Unearth
(play song over on the right)

A west side run through.
One string away from taking the lead.
We stalked the streets at night to live, to feel, to breathe.
Bring back those days of gold where the torch was ours to bare.
A troubled youth to some, to us our crown to wear.
I see a time, a sanctity of brothers.
We knew another world, A west side horror.
A torch burned out before his own time.
We close our eyes at night to hurt, to heal, to breathe.
Bring us back to the day.
Bring us back to our ages of innocence.
Our times to live forever.
Our worlds will meet again.
Worlds.



Poetry by Matt Bodholdt, one of Jake's close friends. Thank you, Matt. It's amazing!

Not a day goes by where I don't think of Jake in some way. Missing you tremendously every day...
-- Matt


Fire

Continuance of breath?
Lives slide by
just beyond our horizon
What comtemplates these atrocities?
why the sphere still reels (is beyond me)
when the birds stopped that day
five seconds became infinite
no words can encompass
no action can convalesce.
the moment
burns
the fire inside inspires being
(paradox)
alive
for those who care
alive
for those who are no longer there

seconds pass by
one by one
each fleeting moment
a chance to change...


Fragility

mossy rock cushion,
beautiful and treacherous,
doesn't bequeath traction.
it beckons
Come on, they say, come in
the air is fine
crisp on this bittersweet day
of relief transcending pain…
but even one step is a perilous journey
for the rest of us…

I can't help but wonder
what it was like to let go.
where is the mind,
when freedom becomes reality?
there's something to see now.
new life in death?
the suffering at the end of it's presence.
no more pain, no more angst

you would tell me not to shed a tear,
I still can't hear you…

Somehow this is where we all end
inevitable of life, obliging death
we shall meet again
if only for a brief second
our paths will cross



Another favorite pastime was tinkering on his car. He wanted to put his latest "how-to" pics and tips on his MySpace.





Jake was an awesome artist who loved to create with different media, airbrush, draw, paint, and sculpt. His passion was pop art, graphic design on the computer - he could do about anything with a computer, Photoshop and computer animation, video making and editing. Art and computer graphic design and animation is what he was going to go to college to study. He also loved to write amusing and fantastic stories. Jake spent hours online with friends and his favorite music - mostly heavy metal - was an important part of his personality.
Even though our tears still fall, and always will, all who know and love Jake carry him in their hearts and live, laugh and love in his honor!


a few years ago
Jake's times spent with friends and family mattered most to him. He was a friend to all, could make anyone laugh - often when he shouldn't be, like in class -- and bring anyone smiles when they needed one. He and his brothers and sister and friends would sometimes share quiet times together, but usually they were up to various crazy antics and going to concerts.


Luke & Jake, in his prom tux
The Embrace
by Luke Dreier


Looking out across barren fields
This is a battle fought without swords and shields
Though I would like to find a way
To protect myself from the memory of that day.

Come back,
Come back home again.

I live in denial of all that is lost now,
Coming to grips with sadness somehow.
How could all that I trusted in -
be ripped away?

Can you see?
Can you see this pain that is plaguing me?

On earth a man but for a few days,
Living now where only sunlight
casts down its beautiful rays.
A year of thought, or lack thereof,
and still no reasons why.
A year and my god has it flown by.

Can you hear?
Can you hear the sound of my weary heart?

Long have I tried in vain
To clear my head of this pouring rain.
Some days it seems that everythig is lost
And there is nothing to gain.

Can you feel?
My arms empty of your embrace?

I must somehow keep moving on,
Steps forward even though you are gone.
I celebrate you and I will forever long.
Never will I stop singing your song.

Do you know?
Do you know how proud of you I still am?

In your honor I live, laugh, and love,
Because somewhere on wings
you are soaring like the dove.
Reaching for your embrace,
Wishing you were here and knowing such is not the case.

Did you know?
Did you know that you left
before I could tell you how much I love you?

You can hear me all the time now in these dark days.
I know now, you are with me in so many ways.
If it's one thing I ask of so many things I lack,
Please make the brighter days come back.

This is my longing embrace.
This is my wish to once again see your face.

These are the questions with no answers.

Yet I know . . .
Yet I know . . . we had and still have a love unbroken.
You are everything to me.
Yet I still fail to see, why my embrace is still so empty . . .




The Broken Chain

We little knew that morning that
God was going to call your name.
In life we loved you dearly
In death we do the same.
It broke our hearts to lose you,
you did not go alone;
for part of us went with you,
the day God called you home.
You left us peaceful memories,
your love is still our guide,
and though we cannot see you,
you are always at our side.
Our family chain is broken
and nothing seems the same,
but as God calls us one by one,
the chain will link again.




Jake, Nathan, Luke, Erin
all four kids


A Name For My Pain
by June Williams-Muecke

I have given a name to my pain --
It's called "Longing."

I long for what was,
And what might have been.

I long for his touch and smell of sweat.
I long to hold him one more time.

I long to look on his beautiful face
And impress it upon my memories and heart.

I long to return to the day before
And protect him from his death.

I long to take his place,
So he may live and have sons, too.

I long for time to pass much faster.
So my longing and pain will lessen.

Will they?





Thank you, Jane. God bless Adam.


O my son, my son . . .
Would God I had died for thee . . .
O my son, my son.
Jake liked Offspring when he was younger.
Little did I know how this song would come to pass . . .


Gone Away

Maybe in another life
I could find you there
Pulled away before your time
I can't deal it's so unfair

And it feels like
Heaven's so far away
And it feels
Yeah it feels like
The world has grown cold
Now that you've gone away

Leaving flowers on your grave
Show that I still care
But black roses and hail Mary's
Can't bring back what's taken from me

I reach to the sky and call out your name
And if I could trade I would

And it feels
And it feels like
Heaven's so far away
And it stings
Yeah it stings
Yeah it stings now
The world is so cold
Now that you've gone away


Here are the lyrics to "Collision," a song over on the right, in case you're not used to listening to metal music. This is a favorite group of Luke and Jake's, and believe it or not, I listen to this kind of music, too. Luke spoke to a member of this group at a concert after Jake's death and told him how much their music has helped. I have listened to this so many times as I sit and cry . . .

Collision
by As I Lay Dying

Can you understand my meaning hidden in the roses around my eyes?
I want you to know how much it means to have you in my life.
Your love brings me close again in this instance, this single moment
when our worlds collide.
The wire of eternity twists around us.
I can feel this river rising, moving up my back.
Some things never change.
Some things never go away.
Some things never change.
Some things never go away.

I could never forget you,
and I will never be the same.
I can never forget you
and I will never be the same.

Some things never change.
Some things never go away.

I could never forget you
and I will never be the same.



Made by Jake, self portrait

I Heard My Son

Last night while I was trying to sleep,
My son's voice I did hear.
I opened my eyes and looked around,
But he did not appear.
He said, "Mom, you've got to listen.
You've got to understand.
God didn't take me from you, Mom,
He only took my hand.
When I called out in pain that night,
The instant that I died,
He reached down and took my hand,
And pulled me up and saved me
from the misery and pain.
My body was hurt so badly inside,
I could never be the same.

I've found happiness within,
All that might have been.
I love you and miss you so,
And I'll always be nearby.
My body's gone for now,
But my spirit will never die!

And so, you must go now,
Live one day at a time.
Just understand
God did not take me from you,
He only took my hand."
-- author unkown



Thank you, Maria.
God bless your precious angels.




KayAnn, Jake's friend and classmate.
She got to heaven eleven months before Jake, April 28, 2005.
She gave the gift of life to others as she left.

KayAnn, we love you forever and we'll never forget you.
You and Jake, have fun up there and watch over us!



Thank you, Joyce
God bless Matthew!
Skate on, guys!


http://www.tyler-smith.memory-of.com
Please visit this precious little boy's site. He was taken by the same illness ten days before Jake.


Another precious one taken by this illness in Nov., 2006. Visit his site.
http://landan-harris.memory-of.com



---
| | |
| --- | --- |
| His legacy | |

My Tribute To a Great Man And A Great Friend




After one of the best friends I have ever had in my life passed away I knew I had to do something special just for him. Tattoos happen to be my "thing" so what else would fit better that would be with me for the rest of my life and everyone can see. I sat down and thought of everything Jake lived for and loved and had taught me. From skateboarding during study halls, 6 years of football together, teaching me to draw and the music I grew to love and its all because of you, Jake.



--- by Josh Lyon


Original Drawing


Finished Tattoo

***********
Several of Jake's classmates now have this tattoo to honor him. All we have asked of them is that if this permanent memorial to Jake is with you always, please, never do anything to dishonor what it stands for! Live your life in such a way as to honor Jake. He is with you in all you do!

Jacob W. Dreier Memorial Scholarship




So many people were so generous with memorial money. It touched our hearts more than people can ever know - not because of the monetary amount they gave, but because it helped us realize we would be able to do some good things to help Jake's memory live on. That gave us much courage to go on in those early weeks.

The Jacob W. Dreier Memorial Scholarship

One of the very first things we wanted to do was establish a memorial scholarship, and we wanted the first recipient to be from Jake's own class, The Class of 2006 of Aurelia High. It was very important to us that this be available to a graduating student based on artistic and creative abilities, more than GPA. Jake, not your 4.0 kind of student, would not be pleased if we didn't do it that way, I dont think! As I wrote out my ideas for the criteria, I could imagine him saying, "Finally! A scholarship I can qualify for!"

We wrote up our ideas and went over them with the school guidance counselor, Ann Sandine, who was a big help. We also talked to a banker and a lawyer to get things figured out. The first recipient is Joe Hultgren, one of Jake's classmates and fellow art class student. Joe is attending Iowa State University, majoring in the area of art, graphic design, and computer animation -
Just what Jake would be doing at Morningside College today!




Jake spent hours working at the computer making art, graphics, and videos, using various programs that he taught himself how to use. He usually did all this while he was also online with friends. He loved to send them funny things he made!

The collage is pictures from Jake's art class (Jake in the cap), friends working on finishing Jake's wall mural for him - in memorium, some of Jake's favorite art projects, and a few other memories collected up for Joe.

Scholarship Application - in part

Jake Dreier was a student in the class of 2006 at Aurelia High School. He was a very creative, resourceful and imaginative person. He was always curious about how things worked, and saw the world in unique, imaginative, and artistic ways. Jake was impatient with most "book" learning, preferring to just "get at it." Rather than waiting for his parents and teachers to explain how to do things as they "should" be done, he would usually observe something being done, and figure out how to do it himself. He would not necessarily succeed in his first atempts, but he never gave up until he accomplished what he set out to do in his own "Jakeian" way. He had many interests, and with each one, he would immerse himself into it passionately. He was proud of accomplishing things in his own unique way, and was willing to share that knowledge or skill with others. He was a "non-traditional" student and he and his family woud be honored to assist other similar learners.
. . .
3. Scholarship selection criteria
. . . .
C. Preference will be given to a student majoring in one of the
following fields of study, or combination thereof.
1. Art (studio, art education)
2. Graphic design (print, illustration, 2D and/or 3D animation,
computer generated graphics, web page design)
3. Computer science (internet technology and/or web site
design, computer video making, computer programming and
other computer technologies, CAD/CAM)
4. Photography (video production / editing, still / studio
photography)
D. Recipient will indicate / demonstrate some or all of these
strengths: hands-on learning, spatial intelligence, creativity, use
of imagination, self-motivation, and ability for independent and
self-taught learning.
E. Other qualities considered are a willingness to try new things,
exploring, involved in a variety of activities with passion and
dedication to those activities being the emphasis rather than the
number of activities involved in. Grades and GPA are not the
emphasis.
F. Recipient will describe current interests, hobbies, activities, and
will write a short essay describing his or her career goals.
. . . .
Looking for a well-rounded individual with a daring and spirited way of approaching life, rather than someone who fits the typical "scholarly" mode, but not to exclude any student with high grades, all other things being considered.


Joe Hultgren, 2006 - the first - recipient of the Jacob W. Dreier Memorial Scholarship, and Jake's parents, Laurie & Roger

We want to thank all of Jake's art teachers over the years, especially Aaron Ware, for helping him develop the talent God gave him. Also, all of Jake's fellow art classmates - you brought out the best, and sometimes the really weird, in him! He loved it, and he will be with you, always, to inspire and bring out the best in YOU! Good luck in your future, Joe!









L'Envoi

When Earth's last picture is painted, and the tubes are twisted and dried,
When the oldest colors have faded, and the youngest critic has died,
We shall rest, and, faith, we shall need it --
lie down for an aeon or two,
Till the Master of All Good Workmen shall put
us to work anew.

And those that were good shall be happy;
they shall sit in a golden chair;
They shall splash at a ten-league canvas with
brushes of comets' hair;
They shall find real saints to draw from --
Magdalene, Peter, and Paul;
They shall work for an age at a sitting, and
never be tired at all!

And only the Master shall praise us, and only
the Master shall blame;
And no one shall work for money, and no one
shall work for fame;
But each for the joy of the working, and each,
in his separate star,
Shall draw the Thing as he sees It for the God
of Things as They Are!
-- Rudyard Kipling


"Your art is as it were a grandchild of God." -- Dante



************
Other legacy things that will be added soon:

Class of 2006 gift of bench and landscaping at school in memory of Jake and KayAnn.

memorial gift to school band dept. for saxophone maintanence

memorial gift to county 4-H foundation for displaying art at the fair

memorial tree planted by 4-H club

tatoos designed by a friend that some classmates got, plus one friend's tatoo of a design Jake had made on a skateboard for him

Jake's creative writing award

Jake's art portfolio and items from his computer

Jake's mural on the art room wall he had started, and finished by classmates

memorial gift to school art dept. for one of Jake's favorite things - airbrushing

The story of Jake's SlipKnot forum friends and his music legacy

newspaper articles about Jake

graduation story

a book for the 2nd graders